Change welcomed in historic congregation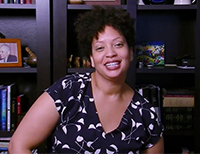 The 206th anniversary – yes, 206th! – of Park Avenue Christian Church (The Park) in New York City will be just a week after their first regularly called woman pastor begins her work there. Rev. Kaji Douša begins her ministry with the jointly affiliated congregation Sunday, Oct. 2.  She is the second senior minister of color in that long history, and Douša is the first United Church of Christ minister since the congregation's affiliation with the UCC five years ago.
Douša's arrival is part of a larger story of transformation. In the 1960s the church reached its all-time highs with a few hundred in worship. There have been several seasons of decline and growth in recent years. The worshiping community has changed greatly, with some still walking from their homes, but others commuting long distances or continuing to support the church from long distances. Worshipers now come from a variety of backgrounds and cultures bringing a rich mix of perspectives. About 20 percent are single and under 35. For 30 years, the building has also housed a Jewish community that partners with The Park occasionally for programming.
And the ministry located at 1010 Park Avenue has changed. For 50 years the Park Avenue Christian Church Day School was the primary mission outreach and enjoyed a stellar reputation. Recently that school became a separate organization and moved to another location. Continuing as established ministry partnerships are the 26-year-old ecumenical Community Lunch program and the interfaith New York Common Pantry. The congregation has also long been focused on social justice issues such as LGBTQ rights and peace concerns.
But in the decade led by the Rev. Dr. Alvin O'Neal Jackson, now retiring, the mission of the congregation has expanded and adapted to a changing community. There are new Latino/a ministries with bilingual worship, immigration clinics in partnership with Church World Service, interfaith clinical pastoral education for ministry to the incarcerated, and on-going work feeding the hungry. All the while, The Park has continued to support Disciples Mission Fund and now, the UCC.
The physical plant is experiencing change as well. With the sale of the Hampton Adams Building, the establishing of the Hampton Adam's Endowment Fund, and the construction of a condominium project, the church will now have offices and other spaces in the new construction to continue its vital ministry and mission for years to come—as well as funds for upkeep of the sanctuary built in 1911 inspired by La Sainte Chapelle in Paris.