Photos and story courtesy of Rebecca Rose, Bethany College director of communications
BETHANY, W.Va. – The Disciples of Christ Historical Society hosted a building dedication and blessing to celebrate its new home at Bethany College on Saturday, Sept. 10.
The new location is adjacent to the grounds of the Campbell Mansion and Renner Visitor Center complex and across the street from Campbell Cemetery, known as "God's Acre," where Alexander Campbell and many of his family members are buried.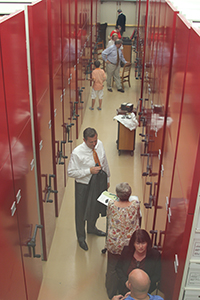 Following the dedication and blessing, those in attendance had the opportunity to tour the new archives building, take tours of Historic Bethany and visit with members of the Historical Society Board. The evening concluded with the Kirkpatrick Lecture at Bethany Memorial Church by Dr. D. Newell Williams, President and Professor of Modern and American Church History at Brite Divinity School at Texas Christian University. His presentation was titled, "Stone-Campbell History: Past and Future."
On Sunday, September 11, there was a morning worship service held at Bethany Memorial Church with Dr. Douglas A. Foster, Associate Professor of Church History in the Graduate School of Theology at Abilene Christian University and Director of the Center for Restoration Studies, serving as the guest preacher.
The Society's archives were previously housed in Nashville, TN, and they hold artifacts, records and documents from the Disciples of Christ Christian Church and Stone-Campbell churches. This past March, the board chose to relocate to Bethany after reviewing applications from various institutions. College officials felt Bethany was the appropriate choice for the archives, as the Christian Church (Disciples of Christ) is Bethany College's founding denomination. Bethany's proposal noted that in addition to being historically significant, through Campbell, the College has for many years professionally maintained extensive Campbell archives.
Those that were unable to attend the dedication can view the stream of the event on the on demand tab at: https://portal.stretchinternet.com/bethanywvadmin/.
Bethany College is a small college of national distinction located on a picturesque and historic 1,300-acre campus in the Northern Panhandle of West Virginia. Founded in 1840, Bethany is the state's oldest private college.