From Chalice Press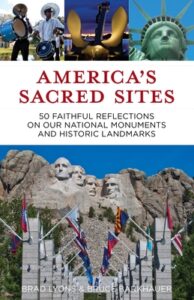 You may not be able to travel much right now, but your imagination is free to roam anywhere it wants to go.
Chalice Press' newest release, America's Sacred Sites: 50 Faithful Reflections on Our National Monuments and Historic Sites, arrives just as we're used to emerging from our winter cocoons and exploring the country – in an time when pandemic keeps us at home. The new book pairs a National Park Service site in each state with a religious or spiritual theme, scripture, and reflection questions. It's a follow-up to America's Holy Ground: 61 Faithful Reflections on Our National Parks, co-written by Chalice Press publisher Brad Lyons and Minister for Faith and Giving Bruce Barkhauer.
"Both books have roots in our faith tradition," Lyons says. "America's Holy Ground was environmental in its perspective, while America's Sacred Sites is focused more on human creativity and social justice.
"But both books have a strong connection to stewardship," Barkhauer added, "care for the earth. Stewardship is a whole-life practice, and we are to be good stewards of our history and story. We are to be truth tellers. Sometimes that's uncomfortable and sometimes that's delightful."
The National Park Service includes more than 400 locations. Together the two books have covered about one-quarter of the system, which is why the second book has been in the works since the inception of the first book.
"We included a section in the first book explaining why sites like Mount Rushmore, Golden Gate National Recreation Area and other immensely popular, well-known sites weren't included in the first book," Lyons said. "But when it came time to pick one site from each state, that was a challenge. Some states have only a few sites, while others have dozens. And we haven't even started on the District of Columbia, which would probably be a book all by itself, or the other American territories. I'd love to add Canada!"
Taking center stage are historical sites – Maryland's Harriett Tubman Underground Railroad National Historic Park (Risk), Alabama's Selma to Montgomery National Historic Trail (Progress), and the Oklahoma City National Monument (Innocence) – and nature-focused sites like Wyoming's Devils Tower (Sacred), the fourteen-state Appalachian Trail (Preparation), and the most-visited NPS unit, California's Golden Gate National Recreation Area (fun).
Both authors are learning something new with every entry. "I had no idea when I started researching that the Liberty Bell and the Statue of Liberty are linked to the abolitionist movement," Barkhauer says. "The bell gained fame as part of the anti-slavery movement, and a hard-to-see element of the Statue includes broken shackles around her ankles. Those are the kinds of discoveries that make writing this so much fun."
Both books can be ordered from ChalicePress.com or wherever you order books. Sign up to receive additional entries by email on AmericasHolyGround.com and on Facebook.